Are you a future shaper, driven by passion and determination to create a more sustainable future for all? Does your company have the potential to make a significant positive impact on the world by addressing some of the most pressing challenges we face as a society, while encompassing the Swedish values of collaboration and inclusiveness? If so the Brilliant Innovators competition is the perfect chance to make your dream a reality, for yourself and for the world.
This year the Brilliant Innovators competition is partnering with EQT Ventures to once again bring new ideas and new voices to centre stage during Brilliant Minds 2023.
The top 6 selected finalists will be given a once-in-a-lifetime opportunity to present their ideas live on stage in a 5-minute pitch to some of the world's most inspiring and influential leaders in Stockholm in June.
The winner of Brilliant Innovators will be invited to return to the main stage to present their idea to the entire Brilliant Minds audience. Our Brilliant Innovators 2023 winner will receive a mentorship from within the Brilliant Minds network, a 12-month lease of a BMW, as well as a ticket to Brilliant Minds 2024, and an invitation to one of Brilliant Minds' international activities.
We are looking for Seed or post-Seed/pre-A start-ups, launched within the past 3 years, based in Europe with a long-term, global future-shaping potential.
Applications are now closed.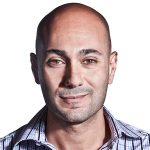 Speaker Mark Boutros – EVP, Global Strategy at Omnicom Group