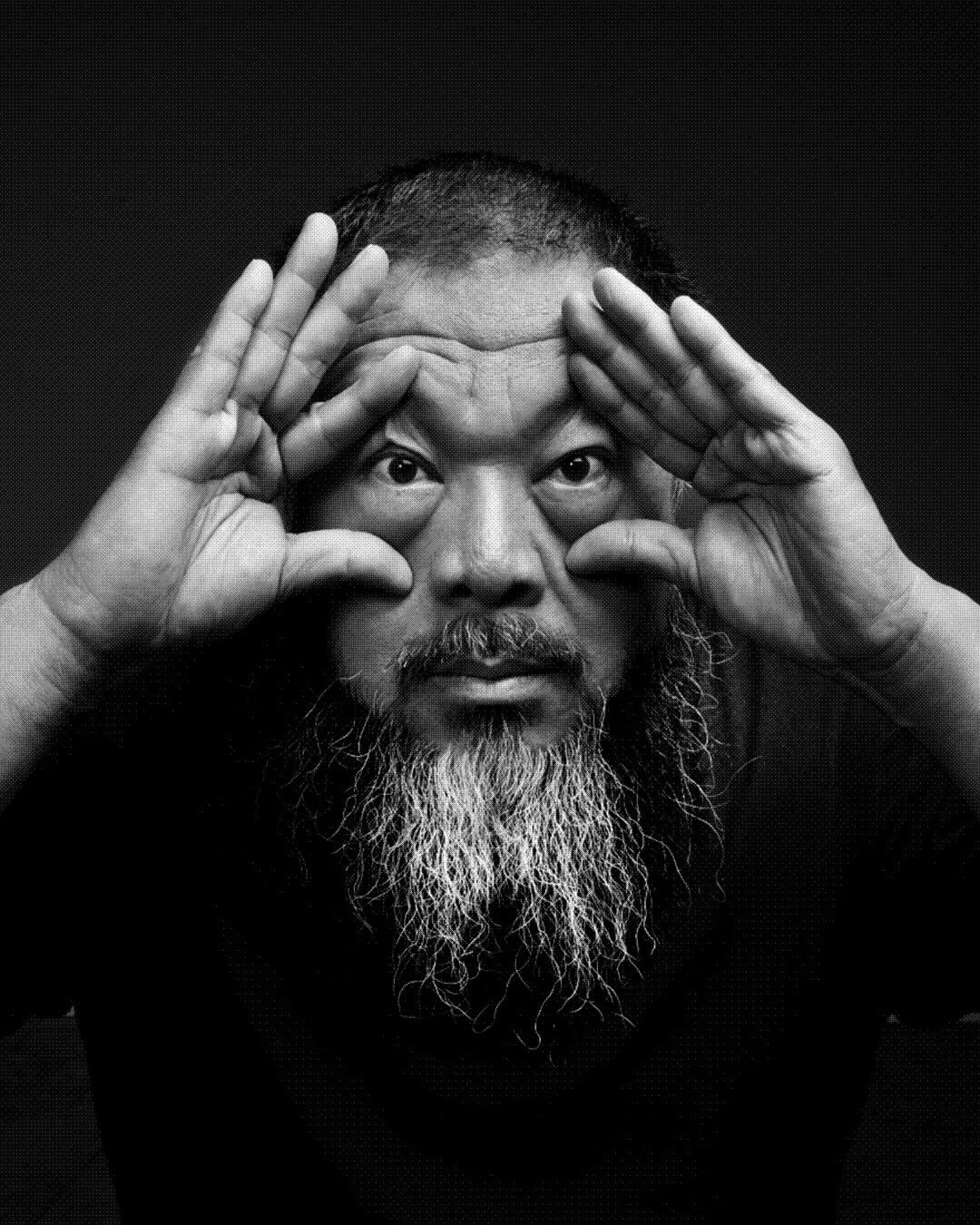 Ai Weiwei
Born in 1957 in Beijing, Ai Weiwei is one of the most influential cultural figures of the 21st century, with a practice spanning art, architecture, filmmaking and social media. As the son of the famous poet Ai Qing, who was denounced by the Anti-Rightest Movement, Ai spent his childhood in exile in China's Western provinces on the edge of the Gobi desert. Eventually returning to Beijing in 1976 following the death of Mao Zedong and the end of the Cultural Revolution, Ai joined the Stars group, a pro-democratic artistic collective. However, after facing strong criticism from the government the group disbanded in 1981 at which point the young artist moved to New York. The city became a starting point for Weiwei's career as an artist as he immersed himself in photography, performance, and conceptual art. It was also here that he first gained exposure to the work of Andy Warhol and Marcel Duchamp, whose "readymades" were to have a profound influence on his artistic development. With his father's health declining, Weiwei returned and settled in Beijing in 1993.
A prolific artist and social activist, Ai has been a vocal critic of democracy and human rights in China. As a "citizen investigator" and social commentator, he has brought to light countless cases of government corruption, for example the Sichuan schools corruption scandal following the collapse of "tofu-dreg schools" in the 2008 Sichuan earthquake. His work also critiques China's rapid economic expansion, with a practice celebrating traditional Chinese craftsmanship and materials. In 2010, Ai earned praise for his installation, at Tate Modern in London, of 100 million hand-painted porcelain "sunflower seeds," which were produced by some 1,600 Chinese artisans.
While his work is lauded internationally, the frequently provocative and subversive dimension of his art, as well as his political outspokenness, have triggered various forms of repression from Chinese authorities. In 2011 he was arrested and held for 81 days without charge, sparking global protest. His passport was confiscated, and he was detained in China until 2015. With his passport returned, Ai moved to Berlin where he maintained a large studio in a former brewery. He lived in the studio and used it as the base for his international work. In 2019, he moved to Cambridge, England.
Ai has been the subject of recent solo exhibitions at the Imperial War Museum, London; Kunstsammlung NRW, Düsseldorf; Marciano Art Foundation, Los Angeles; Hirshhorn Museum and Sculpture Garden, Washington D.C.; Yorkshire Sculpture Park, Wakefield; Kunsthal Charlottenborg, Copenhagen; Ch teau La Coste, Le Puy Ste R parade; National Gallery, Prague; Helsinki Art Museum, Helsinki; Royal Academy, London. With Herzog & de Meuron, Ai Weiwei was architect for the National Stadium of the 2008 Beijing Olympic Games.